Coinhead Studio Services
Overview and current specials

Coinhead Media Studio in Austin is available for music recording, mixing, mastering, voiceovers, quicktime video synchronization, sound design, and most other kinds of digital audio projects.

We can quote prices for studio rental (with or without engineer) on an hourly, daily, weekly, or project basis.

You can bring your own hard drive, or borrow ours and pay a small fee for DVD backups. Read more here.
Arranging your first session

To setup a studio session, please follow these steps:
1) Print out this studio reservation form before calling us.
2) Phone us at (512) 466-0762 for a quote, and to arrange a day and time for your session (You may also email studio@coinhead.com with any questions).
3) Fill it out the form with the day and time we scheduled, and send it to us at the address shown on the form, together with a check for your deposit. Usually the deposit amount is for one hour of studio time.
Audio Gear Rental

Click here for a partial Studio Equipment List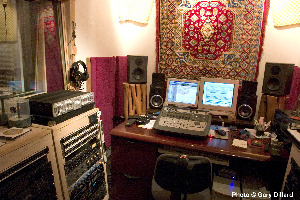 Equipment rentals are available to professional recording engineers and musicians who will properly handle this delicate and valuable equipment.
Multi-day rentals are negotiable. All hourly rentals have a two hour minimum charge, and require advance reservations with a deposit. Equipment rental rates are available upon request.
We also have access to numerous other pieces of recording gear. If you need something, let us know. We may have it or know where to get it for you. Ask us about our Vintage Pro Gear!